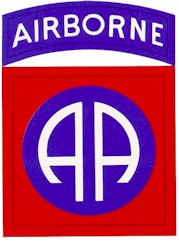 Enlisted in the US Army from December 6, 1950 at Fort Williams, Maine until December 5, 1953. Served as a combat engineer with the 82nd Airborne Division. He was a member of the 127 Airborne Eng. Battalion, Company C at Ft Campbell, KY.
Infantry School, April 3, 1951 - May 4, 1951Fort Benning, Georgia

6th Armored Division, February 27, 1952 - April 4, 1952: Demolition Specialist, Fort Leonard Wood, Missouri

Engineer School, August 21, 1952 - November 21, 1952 Combat Construction Foreman
Enlisted in the US Air Force on January 10, 1955 until January 5, 1966 as a munitions loader with the 509th Bomb Wing at Pease AFB, NH. The 509th Bombardment Wing moved to Pease AFB, NH, in August 1958.Although the B-47s were scheduled for retirement along with the 509th in the early 1960s, SAC kept the 509th alive and equipped the wing with B-52 Stratofortress bombers and KC-135 tankers. It received its first B-52s and KC-135s in March 1966. During this period the wing's B-52s deployed to Guam and flew Arc Light combat missions over Southeast Asia. In April 1968 and April 1969, the wing began six-month deployments to the Western Pacific.
January 16, 1955: 564th Motor Vehicle Squadron, Otis AFB, Massachusetts
May 21, 1955: 64th SUPRON, Otis AFB, Massachusetts as a Munitions Specialist (46150)
Pease Air Force Base started its long history as a 300 acre municipal airport in the 1930s. With the onset of World War II, the U.S. Navy used an airport at the current base location. The U.S. Air Force assumed control in 1951, when the installation was selected for development as a Strategic Air Command (SAC) base. Purchase of additional land needed for expansion of the base started in 1952 and was completed in 1956. Ground breaking for the new SAC facilities took place in 1954, and the first B-47 bombers arrived in 1956. Portsmouth Air Force Base formally opened on June 30, 1956. In 1957, the Air Force renamed the base Pease Air Force Base in honor of New Hampshire native Captain Harl Pease, Jr. who posthumously earned the Congressional Medal of Honor for heroism during World War II.
The mission of the base was to maintain a combat-ready force capable of long-range bombardment operations. During its history, Pease AFB has been the home of the 100th Bombardment Wing and the 509th Bombardment Wing, whose mission is to develop and maintain operational capacity to permit the conduct of strategic warfare in the event of war. From 1956 until its closure in 1991, Pease Air Force Base maintained a combat-ready force for long range bombardment operations. B-47, KC-97, B-52, KC-135 A/E/R, C-130, and FB-111 aircraft were based at Pease at varying times.
Historical information:
On January 1, 1956, the 100th Bomb Wing (BW) was activated at Portsmouth AFB under the command of Col. James W. Chapman, Jr. This establishment had the distinction of being the thirty-third and last B-47 wing to activate, and was comprised of the 349th, 350th, and 351st Bomb Squadrons (BS), of 15 aircraft each. The base was far from complete physically, but this did not slow organizational expansion. The 100th Air Refueling Squadron (ARS), which operated 18 Boeing KC-97 tankers, was assigned to the 100th BW on August 15, 1956.
"Dave's Dream" was the third most famous aircraft in 509th history. The plane was named to honor Maj. Dave Semple who had long desired to be the bombardier on an atomic weapon mission. Unfortunately, he died in a plane crash shortly before Operation Crossroads
B-47 on the tarmac at Pease AFB