1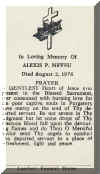 2
I believe this to be a church in Canada. I do not recognize anyone in the picture.
I do not know who this is but my Dad had this card for some reason. The funeral home is possibly in New Hampshire.
5
6
This is a picture of my father with some men. I believe the picture was taken in Canada.
An unknown relative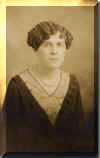 7
8
An unknown relative.
Someone's Wedding. I do know my grandparents (on right) and Uncle Germaine are in this picture, but I do not know anyone else.
9
10
An unknown relative.
Boys on parade (?) in Canada (?). The sign being carried says "Joie" which means "Happiness". The banner might indicate this is from a town called St. Hermenegilde which is about 15 Km from Coaticook.
11
12
An unknown friend of my Dad's (Front)
An unknown friend of my Dad's (Back)
13
14
Unknown Relatives
Unknown Relative (another picture of the girl in the picture on the left).

21
On a farm in Canada
If you can identify any of these pictures, please e-mail me and reference the picture number.